PRODUCT DESCRIPTION
VIDEO
INQUIRY US
| | |
| --- | --- |
| Model | BGJ-S350 |
| Label Material | Paper |
| Labeling Precision | +/-1mm (exclude the product label deviation) |
| Labeling Speed | 0-100pieces/min adjustable |
| Label Gap | more than 3mm |
| Applicable Label Size | L 25-200mm W 10-150mm |
| Power | 220V, 50/60HZ, 2.5KW |
| Weight | 450KG |
Features
1. Double Side Sticker Labeling M/C can is applied to flat bottle labeling, round bottle labeling, oval bottle labeling, etc like:shampoo labeling, lucriation oil labeling, etc
2. It can be single side labeling or double side labeling
3. It is suitable to adhesive label, adhesive film, electronic regulatory barcode, barcode, etc.
4. It is widely used in cosmetic industry, daily chemical industry, electronic industry, medical industry, hardware industry, plastic industry, etc.
5. Double side front back labeling machine applied adhesive sticker label on the front and back side of bottles, jars, containers, box, case, etc.; which are round, flat, oval, rectangular, or square in shape.
Main Description
Automatic double-sided labeling machine is mainly composed of correction, upper pressing, label dispensing, paper delivery, induction, conveying and other mechanisms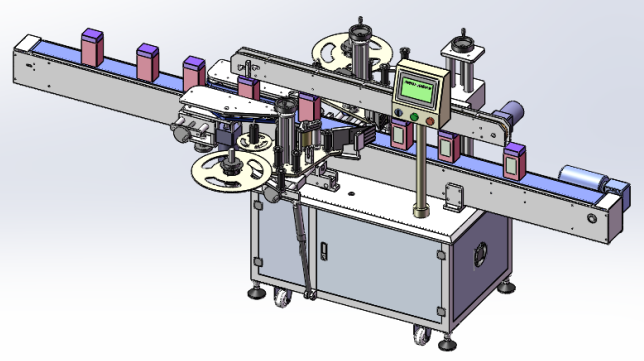 1. Correction mechanism: it is composed of correction motor, correction chain and other components. Make the storage position parallel when the product enters the upper pressure to ensure the accuracy of labeling.
2. The upper pressing mechanism runs synchronously with the conveying mechanism as a whole, so that the product does not move during the entire label pasting process, ensuring that the labeling position is consistent.
3. The front labeling machine head is composed of label pulling, paper receiving, label supplying and other institutions, and the main components of the labeling mechanism.
4. The width adjustment device of the main machine adjusts the width according to the width of the product, and can be adjusted according to the products of different sizes.
5. The main industrial labeling machine angle adjustment device can adjust the longitudinal angle of the entire labeling machine head, generally according to different product shapes.
6. Conveying motor Power transmission motor of the overall main conveying mechanism, 1.1KW frequency conversion motor.
7. Up-pressing height adjustment device A device used to adjust the height of the entire up-pressing mechanism, generally adjusted according to the height of different products.
8. Labeling products are provided by customers, which can be special-shaped, or marked square and cylindrical.
9. The reverse labeling machine head is composed of label pulling, paper receiving, label supply and other institutions.
10. Angle adjustment device A device used to adjust the parallel angle of the labeling head of the host.
11. The host height adjustment device is used to adjust the upper and lower height of the entire labeling machine head.
12. The conveying mechanism is made of stainless steel, and the overall length is about 2.5 meters.
Machine Details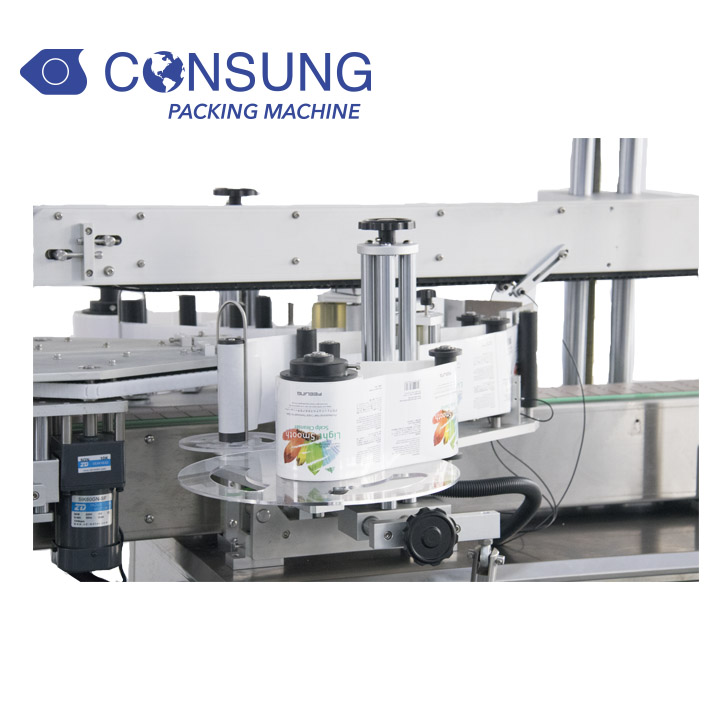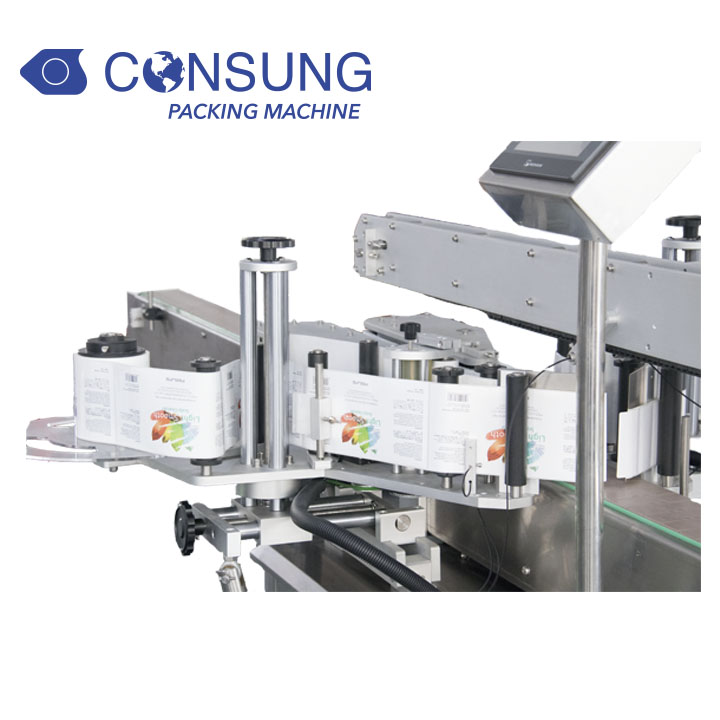 Case
Name: Double Side Adhesive Sticker Labeling Machine 1 SET
Country: Thailand
Industry: Spicy
Details: Our double side adhesive sticker labeling machine is to label front and back side for flat bottle and taper cup