PRODUCT DESCRIPTION
VIDEO
INQUIRY US
| | |
| --- | --- |
| Model | BGJ-F300 |
| Label Material | Paper, self adhesive labels |
| Labeling Precision | +/-1mm (exclude the product label deviation) |
| Labeling Speed | 0-80pcs/minute(its up to product size) |
| Applicable Bag Size | 100≤W≤280mm |
| Applicable Label Sizes | 10≤label width≤130mm |
| Power | 220V, 50/60HZ |
| Weight | 185KG |
Features
1. Bag Separating Device can separate different size of bag to convey bag to automatic labeling process
2. Labeling Press System&Bag Collect System can make sure labeling effect by pressing label double times, and can collect finished bag in table
3. All our cost effective equipment plastic bag labeling machine is controller by servo motor
4. It is widely used in food, medical, chemical and cosmetic industry
Machine Descriptions
1. Labeling head: It is composed of label pulling, paper receiving, label supply and other institutions, and it is divided into front and rear double stations.
2. Touch screen: Display and adjust all labeling information content.
3. Conveying motor: Power transmission motor of the overall main conveying mechanism and paging mechanism, 120W speed regulating motor.
4. Label pressing sponge wheel: Re-press the labelled product to make the label stick more firmly.
5. Conveying governor: It is used to control the conveying speed of the equipment, which can be adjusted according to different needs.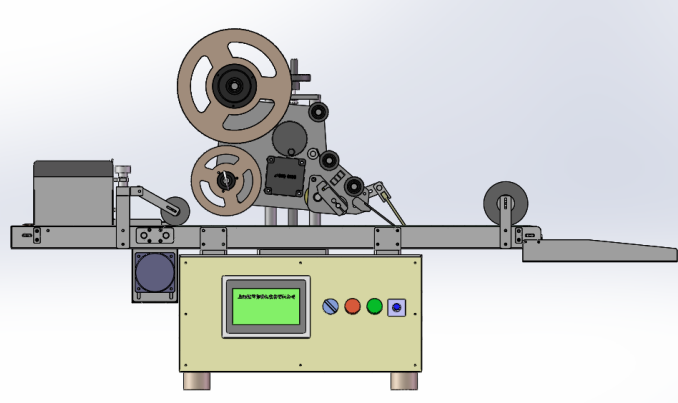 6. Mainframe lifting mechanism: The labeling mainframe can be adjusted up and down, which can be adjusted for different product heights.
7. Receiving platform: length 700MM, customized according to the longest product.
8. Electric control box: All electrical components are installed inside, which can be opened when maintenance is required.

9. Paging mechanism(pouch loading platform): separate the stacked products into single sheets, feeding pouch bags to complete the labeling action, and can be customized according to the longest product.
10. Exhaust fans: There are on both sides of the device to dissipate heat from the internal electrical appliances.
11. Emergency stop switch Power switch: The main power start switch of the equipment, and the switch that can emergency stop when an emergency occurs.
12. Receiving platform: collect products into stacks, customized according to the largest product.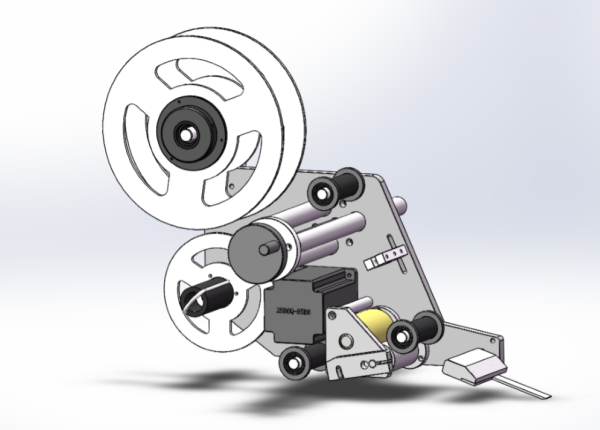 13. Label supplying plate: used to place the whole roll of labels, made of plexiglass, with both front and back labeling machine heads.
14: Back paper receiving tray: used to collect the used label waste paper, made of plexiglass, with both front and back labeling heads.
15. Horizontal adjustment mechanism: It is used to adjust the horizontal width of the host, which can be adjusted arbitrarily according to different labeling positions.
16. Label-pulling mechanism: It is composed of label-pulling wheel, eccentric wheel and other parts, both positive and negative labeling heads.
17. Label pulling motor: imported stepping motor, the main function is to remove the label from the bottom and stick it on the product, both the upper and lower labeling machine heads.
18. Label peeling plate: stainless steel material, make the label separate from the backing paper, the width of the peeling plate is customized according to the size of the label
19. Photoelectric bracket: Aluminum alloy material, used to fix the label detection fiber.
Machine Details
Case
Name: Paper Bag Labeling Machine BGJ-F300 1 SET
Country: France
Industry: Medical
Details: Our offer quality equipment Paper Bag Labeling Machine is to separate bag automatically, labeling automatically, collecting automatically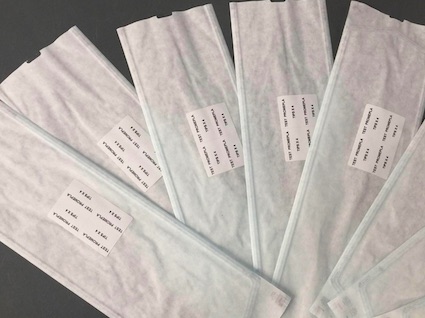 Name: Plastic Bag Labeling Machine 1 SET
Country: Romania
Industry: Food
Details: Our plastic bag labeling machine is label to for empty plastic bag. function is from bag dispenser, bag labeling and bag collecting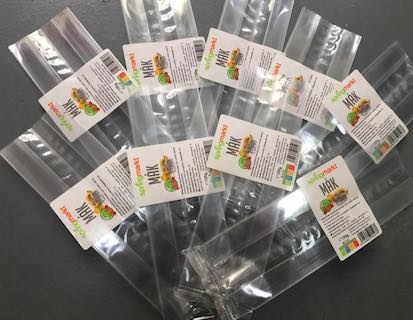 More Video Case
Tabletop PE Bag labeler machine
Automatic aluminum bag label applicator machine, zipper bag labeller machine.
After-service assistance
Normally this model accent packaging equipment dont need to install and commission, customer only need to connect with power and run machine, we not sacrificing quality to get low price, so installation successful in our down factory, but if customer require engineer to their customer factory, We will send one engineer from our factory to customer's factory for installation and commissioning and training, customer should be responsible for the room and board and the go-back air tickets and visa fee, and the allowance of 100 USD per day for each person each day.
Customer also can send your engineer to our factory, we will provide one engineer to teach you how to install and commissioning machine for free.

Training assistance
We will provide technical training for our customer. Training content include labeling machines structure, maintenance, control and operation. We will appoint a qualified technical personnel to guide. Through training, your technical engineer can master operation and maintenance skills, skillfully adjust process and deal with all fault in time.

Spare parts assistance
To make sure flat bags labeling machine's stable and high efficiency running, it is necessary to use our machine's original spare parts, we have a large number of spare parts for different machine, so customer can easily receive our spare parts at first time.

Online assistance
We will provide 24hour online technical support by wechat, email or whatsapp, etc. when customer met some problem during our labeling machine operation, customer provide machine video, picture to list problem, we will solve problems for you within 24hours