| | |
| --- | --- |
| Model | BGJ-Y200 Tabletop type |
| Labeling Precision | +/-1mm (exclude the product label deviation) |
| Applicable Bottle Size | Diameter 20-100mm H40-200mm |
| Applicable Label Size | L20-250mm W20-135mm |
| Applicable Roll Label Inner Diameter | 76mm |
| Applicable Roll Label Outer Diameter | max. 350mm |
| Machine Size | L1200*W850*H750mm |
| Speed | 30-45pieces/min |
Features
1. Applicable to industries: electronic accessories, food chemicals, electrical accessories, hardware electromechanical, auto parts, printing and packaging and other industries;
2. Applicable product range: carton, flat bottle, round bottle, square box, etc. cylindrical/flat body labeling, bar code, electronic supervision code, classification label, etc.
3. Function: automatic detection of labeling, improving the labeling efficiency of products, accurate labeling position, good quality and high stability; avoiding low efficiency of manual labeling, skewed labeling, blistering and wrinkling, and irregular labeling position A series of problems; effectively reduce product costs, improve product logo aesthetics, and enhance product competitiveness;
4. The main materials of the equipment are stainless steel and high-grade aluminum alloy, the overall structure is firm, beautiful, and the operation and maintenance are simple;
5. The scope of application of the equipment is customized according to customer samples, the labeling accuracy is ±1mm, and the size of the applicable product can be adjusted arbitrarily within the technical specification;
6. The structure is small and the floor area is small, which is convenient for equipment movement and placement; the equipment includes positioning device, fault alarm function, production counting function, printing function, etc. (reserved);
Equipment composition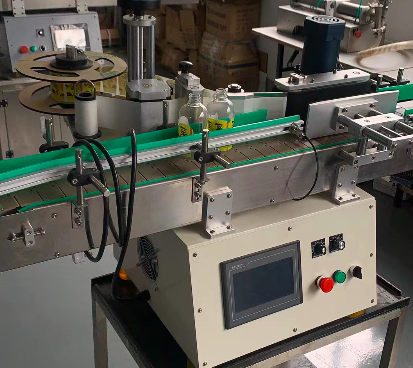 1. The automatic labeling machine head is composed of label pulling, paper receiving, label supplying and other institutions.
2. The touch screen of the labeling machine displays and adjusts all the information and content of the labeling part.
3. Conveying mechanism make the product transport smoothly, complete the whole labeling, stainless steel material, the overall length is 1.8 meters.
4. Conveying motor The power motor of the main conveying mechanism of the equipment is a 90W speed regulating motor.
5. Spoke motor The power motor of the spoke mechanism of the equipment is a 60W speed regulating motor.
6. The labeling mechanism is used to place the whole roll of labels.
7. Paper delivery mechanism Used to collect the used label waste paper.
8. Host adjustment mechanism It is used to adjust the height position of the host, which can be adjusted arbitrarily according to different labeling positions.
9. The pull-label mechanism is composed of pull-label wheels, eccentric wheels and other components.
10. Label pulling motor Imported stepping motor, the main function is to remove the label from the bottom and stick it on the product.
11. The label peeling plate is made of stainless steel, so that the label can be separated from the backing paper.
12. Positioning mechanism It is composed of positioning cylinders, adjusting guide posts and other components. It presses the product when the labeling is rotated, so that the product can maintain stable rotation during labeling and ensure the labeling effect.
13. Spoke mechanism It is composed of spoke motor, spoke belt, spoke drive wheel and other components. It is mainly used for labeling of round products.
14. Positioning cylinder SDA32-20 single-axis cylinder is used to clamp the product and make the product rotate.
Machine Drawing