Our Germany customer ordered electric shrink tunnel for gas cartridges
At first, we got inquiry from our Germany customer: please find attached to this mail some pictures of a gas cartridge for CO2, made in aluminum. These gas cartridges need a full body shrink sleeve label without perforation and a smaller shrink sleeve label for the top valve with perforation. The system shall be designed for PVC film shrink labels.
My main question is if we can use only one full body shrink label or if we need 2 sleeve labels. I am waiting for your technical advise.
The system is an offline system and all products will be placed manually onto the conveyor and also will be taken off the conveyor manually.
Requested line speed is approx. 15 cartridges / min.
Shrink label height (1) approx. 300mm (full body) without perforation
Shrink label height (2) approx. 40mm (valve) with perforation
or alternatively shrink label height complete 370mm with partial perforation
Please be aware about the height of the cartridge
Which kind of shrinking technique will be suggested (hot air or steam)?
All systems will be installed in one line
Production speed between 10 and 20 products / min.
What we need on / for the system:
CE-Conformity including full documentation (user manual in German language, electric diagram, etc.)
System on floor feet with height adjustment
Height of conveyor approx. 900mm (your choice)
Product separation
Product sensor (with adjustable contrast)
Black mark reader
Device for adjusting the applied shrink label onto the product to the correct position
Shrinking tunnel (s)
Outlet of conveyor for optional recollection table
The sleeve labels will finish just above the conveyor surface and will not go under the bottom of the gas cartridges.
Optional: Recollection table with adjustable floor feet Emergency switch Adjustable speed of turning table Outside diameter of recollecting table approx. 800mm
Electric controls: Power supply 230V or 400V Touch screen display in color Memory for dispensing and shrinking parameters
Automatic adjustments with inverters Adjustment for temperature Alarm signals Emergency shut down switches, Etc.
For the quotation we have the same requirements as been shown for the quotation of the labelling system.
Can you also supply me with self-explaining videos and pictures?This project also is an urgent one and our (already existing) client is waiting for our answer.I hope to hear form you soon again.
Its really long requirement for automatic double head sleeve labeling system, through few months communication, customer decided to buy shrinking tunnel for gas cartridges first.
Following is shrinking tunnel machine picture and product sample picture for our reference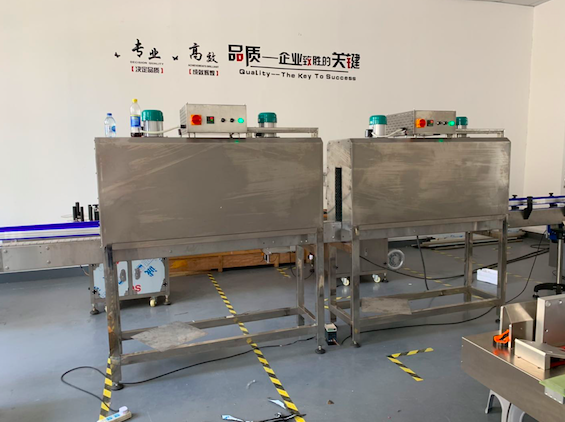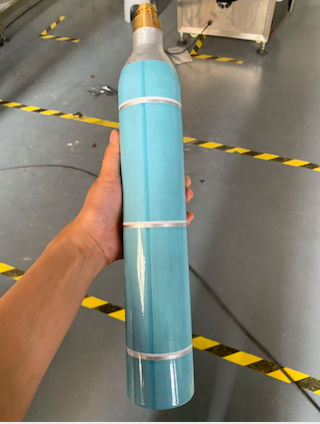 Following is shrinking tunnel testing video in youtube