| | | | |
| --- | --- | --- | --- |
| Model | MB-6 | MB-30 | MB-35 |
| Packing Speed | 22pieces/min | 28pieces/min | 30pieces/min |
| Transfer Belt Width | 610mm | 686mm | 686mm |
| Power | 380V 3phrase 58KW | 380V 3phrase 58KW | 380V 3phrase 58KW |
| Working Pressure | 0.6-0.8Mpa | 0.6-0.8Mpa | 0.6-0.8Mpa |
| Air Consumption | 80-100NL/min | 80-100NL/min | 80-100NL/min |
| Shrinkage Tunnel Size | L2500*W700*H4500mm | L2500*W700*H4500mm | L2500*W700*H4500mm |
| Max Package Size | L460*W280*H345mm | L460*W280*H345mm | L460*W280*H345mm |
| Weight | 4800KG | 5200KG | 5200KG |
Feature
1. Specially designed for bundle packing of beer, drinks and beverage, fruit juice, bottle water, dairy, condiment and so on with or without support.
2. Unique film layoff mechanism and constant tension film conveyor are adopted, featuring instantaneous film cutting, automatic film connecting and wrapping and higher strength after shrinking packing.
3. Special shaking setting for bottle-dividing, none status for blocking and bearing bottle, smooth transport.
4. Equipped servo motor control system, bottle-feeding, film feeding, film cutting and film wrapping are accurate, synchronous, stable and reliable.
5. The 10-inch LCD color screen has a friendly operation interface, and it is rapid for parameter setting and convenient for human-machine communication, operation and control.
6. Adopting air circulating technology, the shrinkage chamber features rational structure, heat insulation, high precision for temperature control and better packing effects.
7. Shrink tunnel uses unique air circulation configuration, transfer belt runs smooth, wearable and with longer service life.
8. this machine can connect with sleeve labeling machine or hot melt labeling machine as downstream packing line.
9.China factory specializing in the production of labeling machines in China Automatic PE film packing machine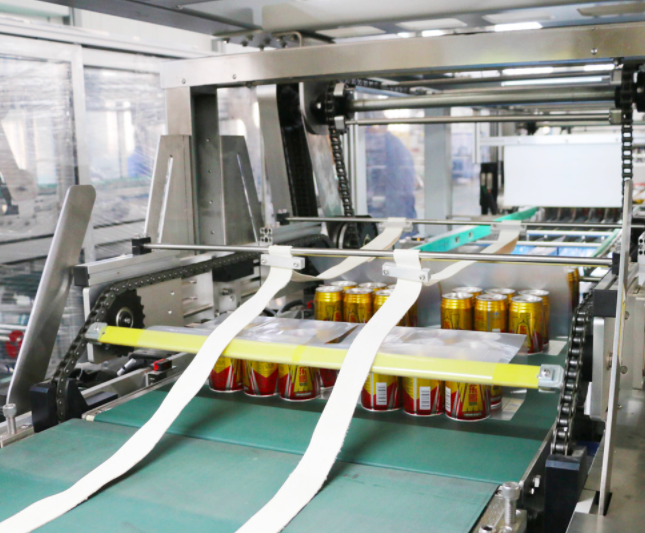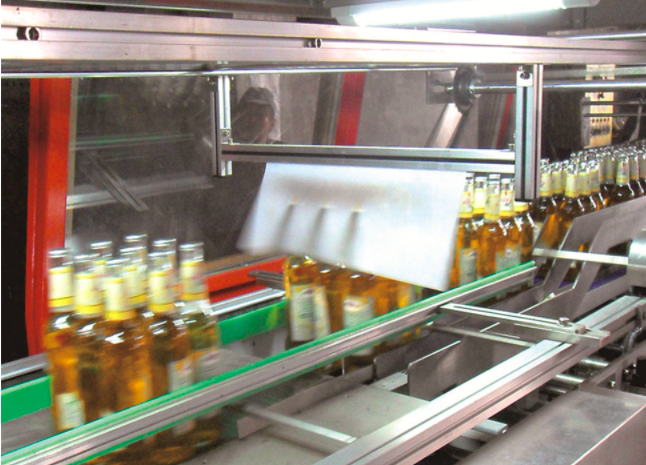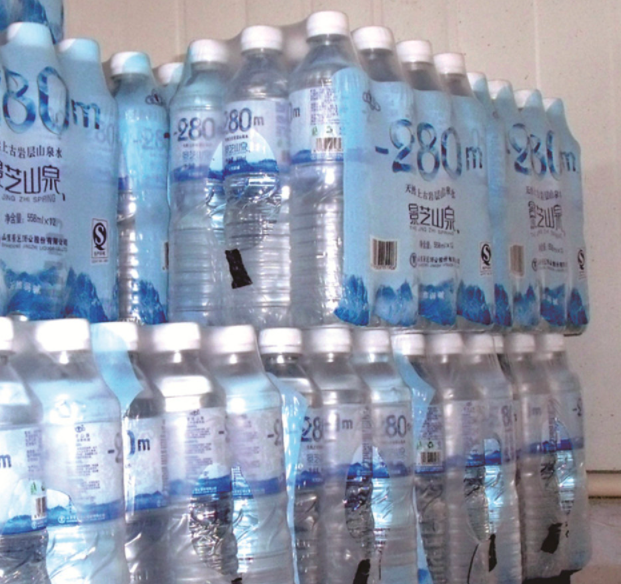 The development prospect of heat shrinkable film packaging machine:
Heat shrinkable film packaging machines are widely used in various fields of national economy and people's livelihood. Due to the requirements of various working conditions, there are a large number of shrinking machines. my country's shrinking machine manufacturing industry is very large, and there are thousands of shrinking machine manufacturers all over the country. At present, my country has become one of the countries with the largest shrinking machine output and market demand in the world. However, most of my country's heat shrinkable film packaging machine industries are small and medium-sized enterprises, and the good and the bad are mixed. There are less than 10 companies with an annual output value exceeding 100 million yuan. Even compared with other domestic machinery industries, there is a big gap in terms of equipment and technical level. , There are very few units that really have the ability to independently research and develop products. Therefore, in major projects such as large-scale petrochemical, nuclear power, and long-distance oil and gas pipelines, the supporting heat shrinkable film packaging machines are mainly imported.
Heat shrinkable film packaging machine companies attach great importance to the development of new products. It should be noted that although my country's heat shrinkable film packaging machine industry has developed to today, although there is still a gap with the international advanced level, it has surpassed the stage of simply copying and absorbing. To seek technical ways for further development, we should analyze and learn from foreign advanced products, and comprehensively analyze and think about the development trend of heat shrinkable film packaging machine technology and product development from a deeper level, and strive to develop independent intellectual property rights. of new products.