| | | | |
| --- | --- | --- | --- |
| Model | MB-26 | MB-30 | MB-35 |
| Packing Speed | 22pieces/min | 28pieces/min | 30pieces/min |
| Transfer Belt Width | 610mm | 686mm | 686mm |
| Power | 380V 3phrase 58KW | 380V 3phrase 58KW | 380V 3phrase 58KW |
| Working Pressure | 0.6-0.8 Mpa | 0.6-0.8 Mpa | 0.6-0.8Mpa |
| Air Consumption | 80-100NL/min | 80-100NL/min | 80-100NL/min |
| Shrinkage Tunnel Size | L2500*W700*H4500mm | L2500*W700*H4500mm | L2500*W700*H4500mm |
| Max Package Size | L460*W280*H345mm | L460*W280*H345mm | L460*W280*H345mm |
| Weight | 4800KG | 5200KG | 5200KG |
Feature
1. Specially designed for bundle packing of beer, drinks and beverage, fruit juice, bottle water, dairy, condiment and so on with or without support.
2. Unique film layoff mechanism and constant tension film conveyor are adopted, featuring instantaneous film cutting, automatic film connecting and wrapping and higher strength after shrinking packing.
3. Special shaking setting for bottle-dividing, none status for blocking and bearing bottle, smooth transport.
4. Equipped servo motor control system, bottle-feeding, film feeding, film cutting and film wrapping are accurate, synchronous, stable and reliable.
5. The 10-inch LCD color screen has a friendly operation interface, and it is rapid for parameter setting and convenient for human-machine communication, operation and control.
6. Adopting air circulating technology, the shrinkage chamber features rational structure, heat insulation, high precision for temperature control and better packing effects.
7. Shrink tunnel uses unique air circulation configuration, transfer belt runs smooth, wearable and with longer service life.
8. this machine can connect with sleeve labeling machine or hot melt labeling machine as downstream packing line.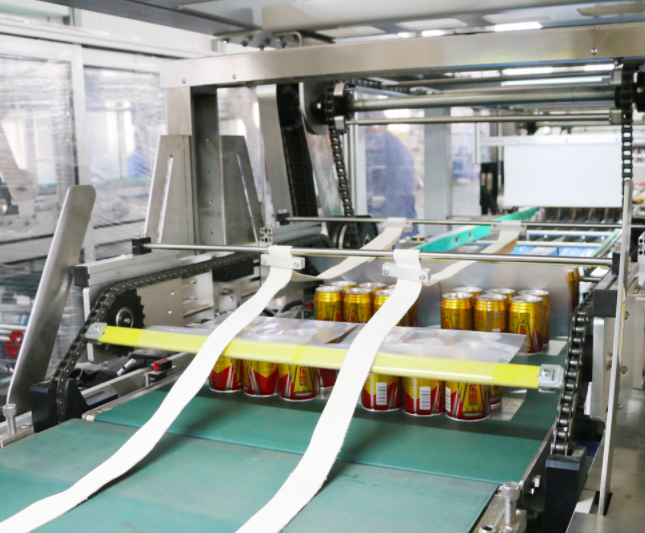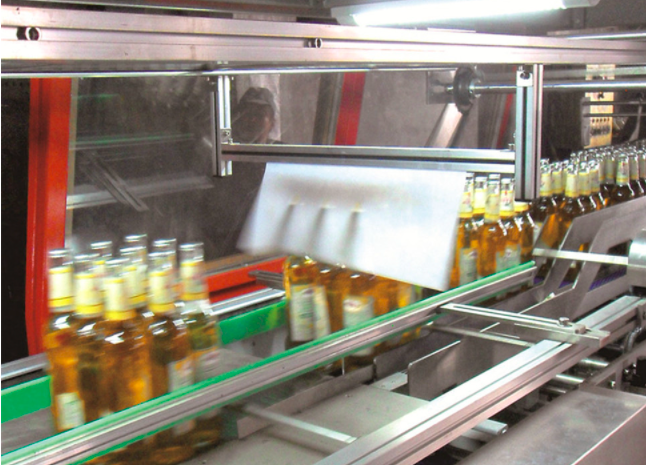 Operation process of heat shrinkable film packaging machine:
1. First set the heating time for the machine
2. After pressing the manual or automatic button, the solenoid valve of the rack cylinder gets electricity to drive the gear, and the gear drives the chain. At this time, the proximity switch at the rear of the rack cylinder is disconnected. When the rack cylinder runs to the top dead center, the front proximity switch of the rack cylinder is turned on, and the solenoid valve of the drying oven cylinder is energized and output.
3. When the oven cylinder runs to the top dead center, the timer starts and starts to delay, and the solenoid valve of the rack cylinder is powered off.
4. When the timing is over, the solenoid valve of the oven cylinder is powered off.
5. According to the work mode, decide whether to continue the next work flow.