China Automatic Carton Erector Machine Malfunction and Solution
1.The adhesive tape cant cut off; possible reason: the reamer patch is not sharp enough. the reamer tine is jammed by the bond. solution: Change the reamer patch Launder the reamer patch
2.There is tail after the adhesive tape is cut off; possible reason:The reamer patch is not sharp enough. There is stem on the reamer seating. The pulling spring is too loose. solution:Check if the nut on the reamer seating is too loose or not. Lubricate the nut if necessary.
3.The adhesive tape can't stick to the carton completely. possible reason:Main spring is too loose and there is glue on the axis of the roller. The adhesive tape is disqualification solution: Adjust the pull of main spring and clear up the roller. Change the adhesive tape
4.The carton is locked in the midway. possible reason:The nut on the pasting wheel is too tight, the height adjustment of the carton's transporting line is not suitable, and the main spring is too tight. solution: Loosen the pasting wheel, regulate the nut, re-adjust the height and loosen the main spring.
5.Automatic carton opening forming sealing machine adhesive tape is often off the track. possible reason:The pressure of the guiding roller on the carton is not equal. solution:Re-adjust the space of the guiding roller.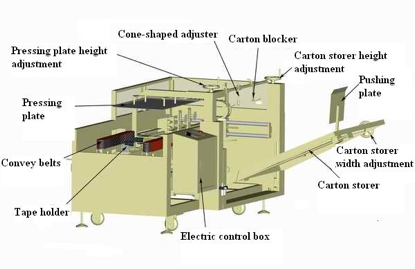 Product Link: http://www.shanghai-packing.com/product/Case-Erectors.html