| | |
| --- | --- |
| Model | XD-S20 |
| Stacking Speed | 24000 per hour |
| Power | 18.5KW |
| Max.Unloading Weight Per Layer | 180KG |
| Max. Unloading Weight Per Pallet | max. 1200KG |
| Max. Unstacking Height | 1800mm |
| Air Consumption | 800L/min |
| Air Pressure | 7Bar |
| Pallet Size | L1100-1200mm W1000-1100mm H130-180mm |
Process Description
Automatic depalletizer is to fork the whole stack of products to the conveyor line, and then transport them into the main lifting platform of the destacking warehouse. The clamps are moved to the conveying of the tank. After all the unloading is completed, the lifting table descends and conveys the empty pallets, which are collected by the stacker.
Equipment composition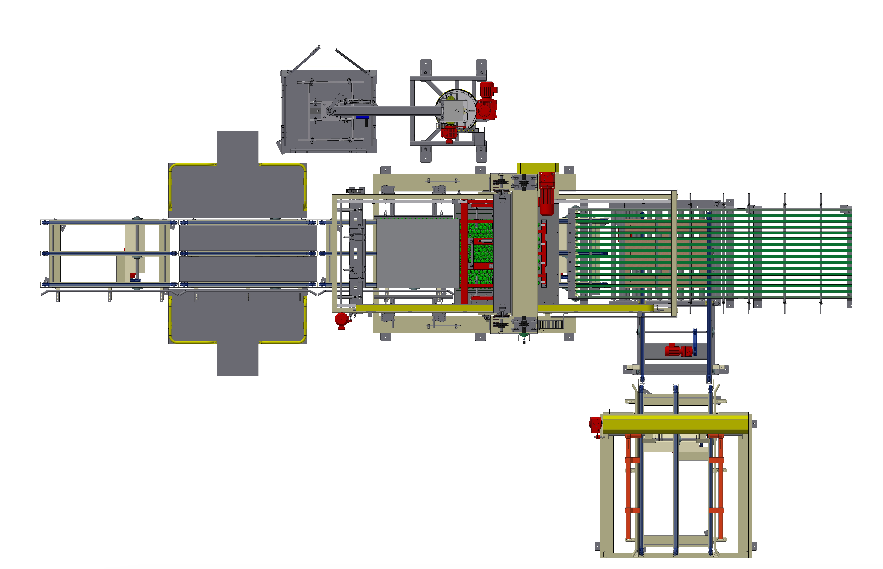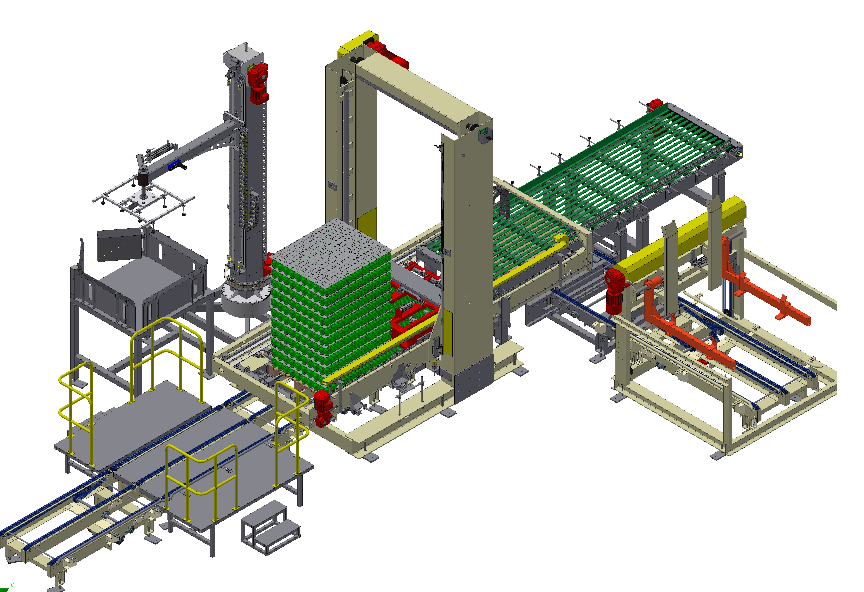 1. The product is conveyed by high-strength imported brand plastic steel module mesh belt, 3mm SUS304 wire drawing body plate.
2. Stacking conveyor line: The body is made of cold-rolled steel plate over 5T by bending and welding, the outrigger is 12.6# channel steel, the transmission motor should be placed in the middle of the conveyor line, the chain (RS60 double row) is connected around the S shape, and it is expanded and tightened. Easy maintenance and good transmission efficiency.
3. Main frame and lifting group: the main frame is gantry type, the chassis should be 250*250 H-beam steel, 20# channel steel, the column should be rectangular 550*250 6T cold-rolled plate welding, and the inner welding reinforcement. The guide rail is 60*30 high-quality carbon steel quenched and tempered (the surface hardness after treatment is HRC46-48), and all the fixing bolts are of 12.9 grade high strength. The main lifting drive is a horizontal helical gear with a brake motor reducer, and the lifting movement stops smoothly and accurately. The fixed position of the main lifting mechanism can be micro-adjusted to ensure that the horizontality and verticality can be adjusted during installation.
4. Automatic separator mechanism: the lower part of the mechanism can rotate 90° through a multi-motor, and the separator on the stack is sucked up by the suction cup, and is rotated and sent to the separator collection mechanism.
5. Bottle holding system: This mechanism uses high-strength aluminum alloy profiles and four groups of air to hold the entire layer of products from four directions, and transfers each layer of products on the stack to the mesh belt conveyor line layer by layer.
6. Stacking system: The empty pallets are conveyed through chains and fed into this mechanism, which can store up to 10 pallets.
7 Automatic control system: adopt Siemens logic controller (PLC) for system logic control. Complete the communication control of various peripherals such as machines, operation buttons, touch screens, indicator lights and safety door switches.
8. Safety fences and safety systems are used to prevent safety accidents caused by accidental intrusion of personnel during the automatic movement of the ground rail machine.