| | |
| --- | --- |
| Model | MD-S20 |
| Stacking Speed | 20 cartons/min |
| Power | 9KW |
| Max.Loading Weight Per Layer | 100KG |
| Max. Loading Weight Per Pallet | max. 1500KG |
| Max. Stacking Height | 2m customized |
| Air Consumption | 550L/min |
| Air Pressure | more than 0.6MPa |
| Pallet Size | 1200*1000,1100*1000mm, its up to customer |
Features
1. Complete system include carton in-feed, empty pallet in-feed, full pallet out-feed, control system, conveyor system, etc
2. Easy to delivery to overseas
3. User friendly control and good stability
4. Variable for different kind of product like bucket, container, drum, carton, film product, etc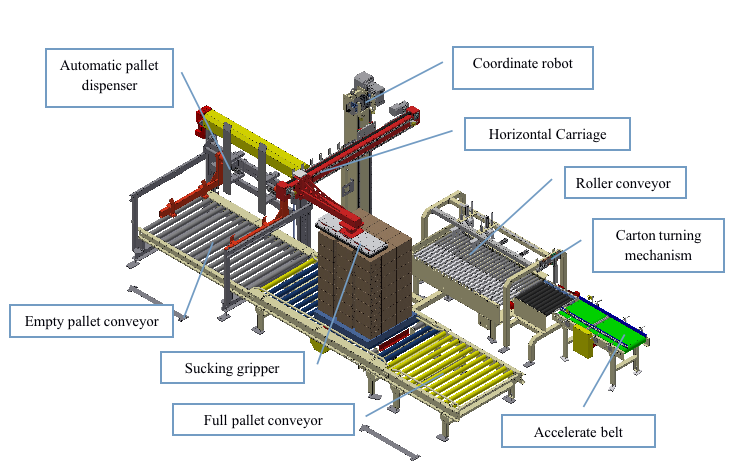 Description
Packaged products (box/bag/barrel/pack) are stacked onto the empty pallet in a certain order through a series of mechanical actions, which is convenient for handling and transportation of products in bulk. The on-site operating environment will be improved; the productivity shall be increased; the customers' requirements for production processes and packages shall be satisfied.
Working flow
Firstly, place 10 empty pallets in the pallet dispenser by a forklift, and the pallet dispenser will transport one pallet on proper stacking position; Products are transported from the packaging machine to the accelerating belt line which may enlarge the distance between two products through speed difference; the steering mechanism will change the direction of products according to their arrangement mode, and the arrangement mechanism will arrange the products in a certain order; and then the coordinate robot gripper will suck the well-arranged products and carry them to the pallet. Repeat the actions until all products are stacked well. Whenever a stack of products is finished, the full pallet conveyor line will transport the products to the workstation of the forklift.
Description of main equipment
Accelerating belt line: There are two belt lines with different speeds. The rear belt line's speed is over one times faster than the front one (the distance between two boxes can be adjusted by adjusting the speed difference between two belt lines by the frequency converter). Speed differential keeps a certain distance between each box, which is good for steering box. The belt is imported baseband, and the main frame is varnished carbon steel.
Carton-steering mechanism + roller conveyor : when the box steers, the speed of the bottom conveyor line is the same with that of the rear part of accelerating belt line; when the box needs to be rotated 90°, the cylinder will stretch out quickly to block the one side of the box.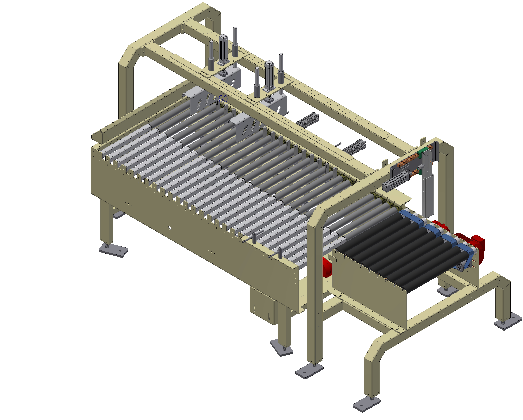 Pallet dispenser: this system can hold 10 empty pallets. Pallets are placed on the pallet conveyor line by cylinders. The main frame is varnished carbon steel.